Batter Overflow
It's the weekend and you have a relaxing morning to make breakfast. You whip up your favorite waffle batter, take out your waffle iron, and get to work. However, when you put the batter into the waffle iron and flip it over, the waffle batter is overflowing from the sides of the iron. Not again!
A waffle maker will overflow if there is not enough room for expansion, too little oil, or if you cook your waffles at higher temperatures. Overfilling your waffle iron can cause the heat to expand and push excess batter out from the side, which makes for a messier clean-up experience.
How do you stop your waffle maker from overfilling and causing that pesky batter leakage? How much batter should you place in different-sized waffle kitchen appliances?
How Do I Stop My Waffle Maker From Overfilling?
Stop your waffle maker from overfilling by only putting a little bit of batter into the middle. It can be tempting to fill the entire iron, but refrain from doing so.
The waffle maker needs space to expand and cook the waffle effectively, so adding in only a set amount based on the waffle iron's size will create the perfect waffle without the overfilling mess.
There Are a Few Different Reasons Why You May Be Facing an Overflowing Waffle Maker
How Full Do You Fill a Waffle Iron?
The amount of waffle batter you place in the waffle iron depends on its size. A 7'' waffle iron only requires about ¾ cup of the batter while an 8'' one needs about ½ cup. Have a measuring cup handy to measure the waffle batter to prevent the unit from overflowing.
The Dash Mini Waffle Maker is about 4'' on the surface. No matter if you have an original model or a specialty one that makes different shaped waffles such as hearts or stars, you will only need a ⅓ cup of waffle batter.
The Dash waffle stick maker measures 4.5 inches in width. When you put the batter in, it will net you four waffle sticks. Distribute ⅓ cup of batter across the surface for evenly-sized waffle sticks.
Should I Grease a Non-Stick Waffle Iron?
Since one of the reasons a waffle maker overflows is because of too little oil in the pan, you may be wondering if you should grease a non-stick waffle iron. Refrain from greasing this appliance because the coating is specially made to prevent the waffle batter from sticking to the iron.
Some non-stick waffle makers and frying pans are made with a quasicrystalline coating that contains aluminum, iron, and copper, hence its AlCuFe chemical makeup. The copper allows the heat distribution in the appliance to cook waffles evenly because the metal is a great heat conductor.
As long as the aluminum is coated on a non-stick appliance, it is usually non-reactive which means it will not change the taste of your waffles. The iron in the quasicrystalline coating can hold heat for long periods to thoroughly cook your waffles without wet batter inside.
How Should I Grease a Waffle Iron That Is Non-Stick?
If you have a waffle iron that does not have non-stick properties, you will need to apply oil or grease to the cooking surface. Skipping this step will mean that your waffles will stick to the surface and break apart before you can even get them on a serving plate.
For the easiest greasing, use cooking spray. Have it positioned about six inches away from the iron waffle maker, spray head on, and it will lightly grease the surface without getting too oily.
Applying Oil Will Prevent Sticking
Why Does My Waffle Maker Stick?
Your waffle may stick because you may not have enough grease in your cast iron waffle maker. Lack of moisture makes waffles stick to the iron. Oil or cooking spray moisturizes an iron waffle maker for easier removal when the waffle is done cooking.
If you have a non-stick waffle maker, the batter should not be sticking because of the non-stick coating the manufacturer placed on the unit.
Why Is My Waffle Wet Inside?
What if your waffle does turn out wet on the inside? If this happens, your iron waffle maker may not be hot enough. When you pour your batter onto the waffle iron, you should hear a sizzle when the batter makes contact with the hot appliance.
A wet waffle means it did not have enough time to cook on the inside. To prevent this mistake, preheat your waffle iron for at least three to five minutes to get it piping hot on both sides. This will give you the crispy waffle you're searching for!
How Do I Clean My Waffle Iron Overflow?
If your waffle iron overflows while cooking breakfast, let it cool for at least a half hour to 45 minutes to safely clean it. Whether there is batter overflow or not, you should wipe down your waffle iron after every use with a clean, damp sponge, rag, or paper towel.
If the batter overflow is sticking hard and does not come off with a damp cloth, put a few drops of oil on it. Let it soften the batter, then wipe it away with a wet cloth.
Do not use any soap or other chemicals to clean the iron surface. Doing so will break down the coating on the waffle maker and alter waffle quality during future uses.
The best waffle maker is the one that comes with removable plates. This makes the cleaning process much easier!
Why Does My Waffle Iron Turn Over?
A waffle iron turns over to start the cooking process. Pour the batter into the bottom of where the iron opens up. Close it and turn it over. A cooking indicator is on the alternate side. The light is red or stays off while the waffle is still cooking.
Once the waffle finishes cooking, the light will turn green to notify you the waffle is done cooking.
What Makes a Fluffy Waffle?
A fluffy waffle needs the right balance of moisture. Too much moisture can create soggy waffles while not enough of it can cause them to come out dry.
Waffles will rise better by preheating the iron before pouring it into the batter. Incorporating whipped egg whites into your waffle batter will make a fluffy waffle more pillowy and soft.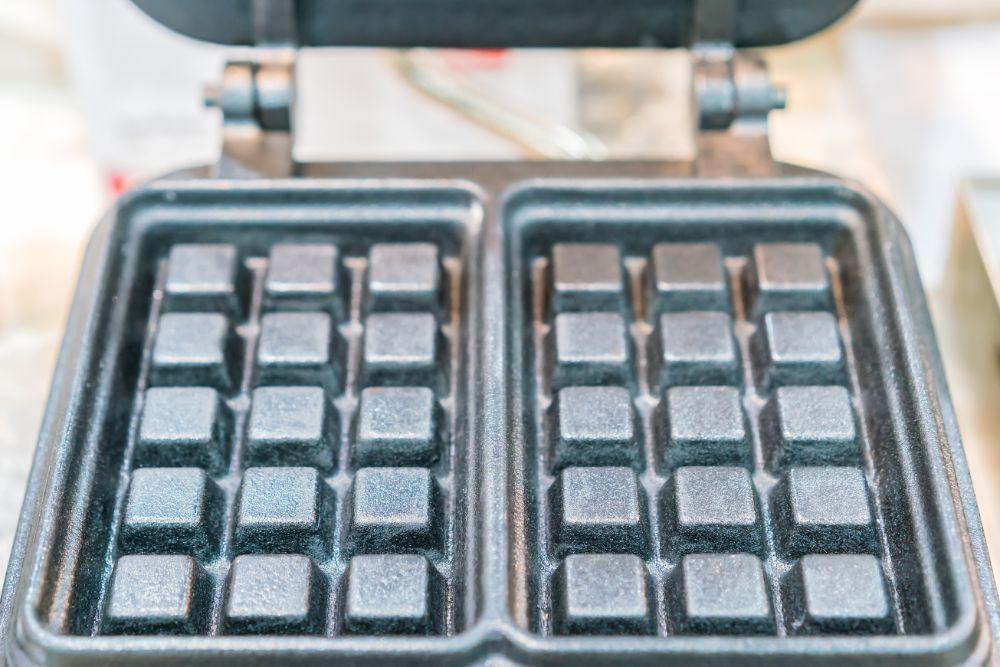 Create a Perfect Balance of Moisture to Avoid Soggy Waffles or Waffles That are too Dry
How To Make a Belgian Waffle
Use waffle mix from the store or make your favorite homemade Belgian waffle recipe. Be sure that you do not use pancake mix when making fresh Belgian waffles because the texture will not come out correctly. You can make a Belgian waffle by using a Belgian waffle maker.
Homemade Belgian waffle recipes say to separate a couple of eggs with the yolks into the waffle batter and the egg whites in a separate bowl. Whip the egg whites until fluffy. Once you have the rest of the waffle batter mixed, gently fold in the egg whites.